Shopping Basket
Your Basket is Empty
There was an error with PayPal
Click here to try again
Thank you for your business!
You should receive an order confirmation from Paypal shortly.
Exit Shopping Basket
Phone 09 444 0012
The Cruise and Travel Specialists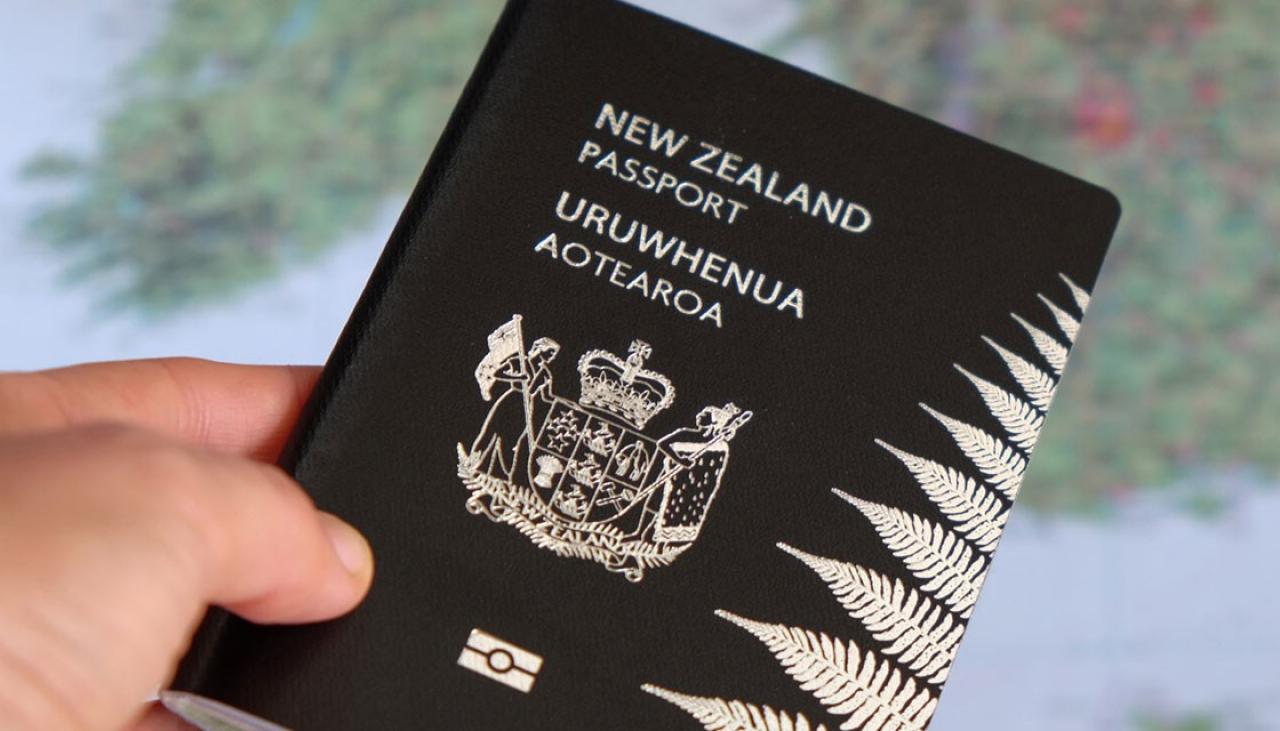 Princess Cruises' Ruby Princess is sailing a 3 night "sampler" cruise from Auckland this Christmas and a common question is, "Do I need a passport on a domestic cruise that sails around NZ only?" The answer is no, you don't!
Most guests will use their current passport however you only require government issued photo identification. Other than a passport or drivers licence, either an 18+Card (evidence of age document) or Super Gold Card with photo is acceptable.
Minors under 18 years of age may also present an original or certified copy of their birth certificate or a school card with photo.
Guests that are not legal residents of NZ must present their passport. Remember, failure to present the appropriate photo identification at check-in will result in denial of boarding.
Please contact us if you'd like more details on the above or would simply like to know about other close to home cruise options in the future.

Jaimie McDonald From Auckland, New Zealand Completes In-Depth Training Program With Leading Tour and Cruise Company
Wilton, CT May 13, 2019: Jaimie McDonald, a travel agent from Jaimie & Roxi Cruise & Travel in Auckland recently completed an in-depth training program with Tauck, thus joining less than 1% of the company's worldwide network of travel agents who have successfully completed the program. Founded in 1925, Tauck is a leader in premium quality guided travel with over 120 land journeys and cruises to more than 70 countries and all seven continents. The company has been named both the "World's Best Tour Operator & Safari Outfitter" and the "World's Best River Cruise Line" three times by the readers of Travel + Leisure magazine.
Jaimie was enrolled in the company's agent training program Tauck Academy, and by successfully completing its curriculum, he becomes a Tauck Certified agent who qualifies for special benefits and other exclusive opportunities provided by the company. Tauck Academy includes intensive classroom training. Topics covered include Tauck's history, details of the company's extensive product line, and what separates Tauck's tours and cruises from those of its competitors.
Jaimie & Roxi Cruise & Travel is a full-service travel agency located on the North Shore, Auckland. Jaimie says, "Experience matters and we can honestly say we've probably been there and done that. We aim to provide a boutique experience focusing on the personal touches often missed by others".
Those interested in more information can contact Jaimie at [email protected], on 09 39 111 40 or visit their contacts page for more details.
Jaimie McDonald (left), with Tauck Vice President of Global Sales, Steven Spivak.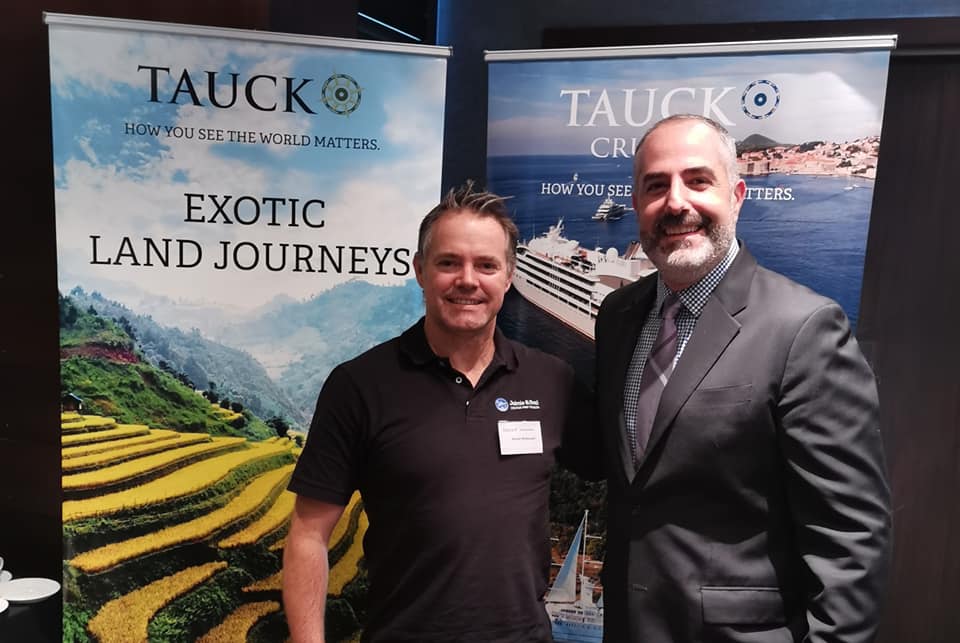 For many of us, the first thing we look at when considering our upcoming holiday plans are flights, and usually the accommodation next. We will look at the BEST, EASIEST and maybe even the CHEAPEST options... or at least what we perceive to be the most economical or BEST VALUE FOR MONEY.
With that in mind, I thought I'd do a quick cost comparison between three different holidays types:
1) SOUTH ISLAND DOMESTIC BREAK
2) SOUTH PACIFIC ISLAND ESCAPE 
3) AUSTRALIA & NEW ZEALAND CRUISE 
I've based the comparison on a FAMILY HOLIDAY FOR THREE - two adults and a child and am speaking from personal experience as over the last few years our family have done each of these.
As the cruise is a 12 Night sailing from Auckland to Sydney on the 18th of December, I've also based all flights to/from Auckland and accommodation over the same period and duration just so that we can compare "apples with apples" 
The cruise pricing is for a BALCONY CABIN on the brand new MAJESTIC PRINCESS so I've also used a good standard of accommodation for both QUEENSTOWN and FIJI. I've also provided the daily cost of an upgraded standard of accommodation for both just to give an idea of alternatives though these are not included in the comparison.
For meals I'm guessing about $30 each for breakfast and dinner and $15 towards a quick bite for lunch which I'm sure sounds pretty reasonable.
I haven't included the cost of activities or entertainment for Fiji or Queenstown whereas the majority of entertainment is included on board a cruise. In Fiji you may be happy to lounge around the pool though in the "adventure capitol of the world" you'll be hard pressed to find many activities under $100 per person! I'll leave this up to you to add your own figure here.
I also haven't included the cost of beverages though unless you're going on a detox retreat I'm guessing this will be a similar amount whatever the holiday you go on... unless you purchased a drinks package on the cruise or even better still, it was a FREE inclusion with your fare. FYI - the pricing on this particular cruise didn't include a free drink package when I quoted this.
There are definitely better times to book and costs may vary as different specials come out (which is where we can help) though have a look at the comparison below and let me know what you think. As I said, you may be surprised!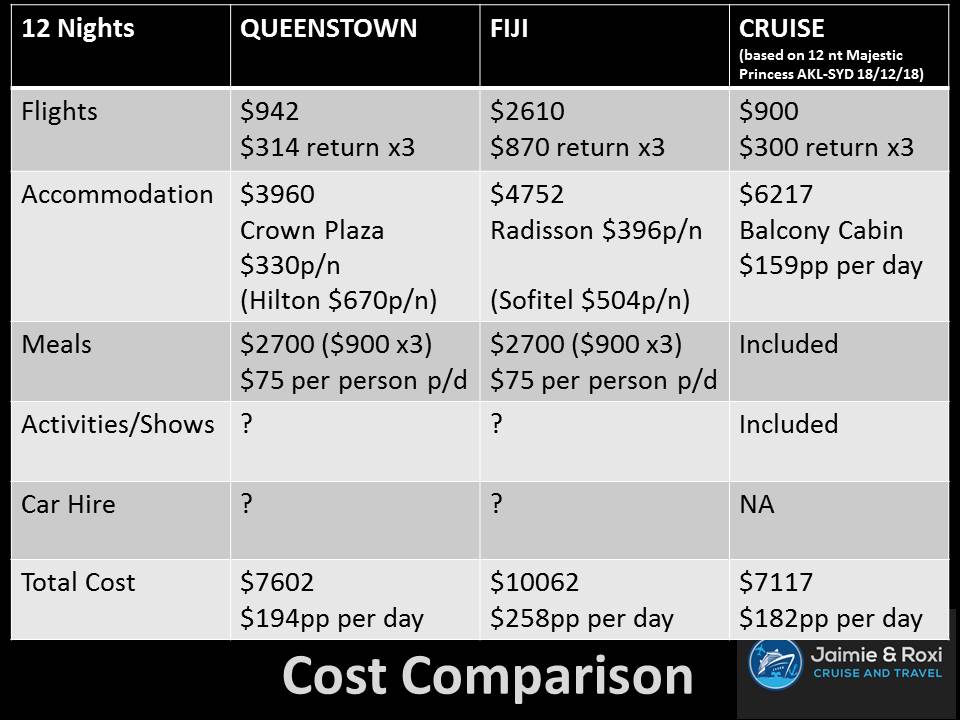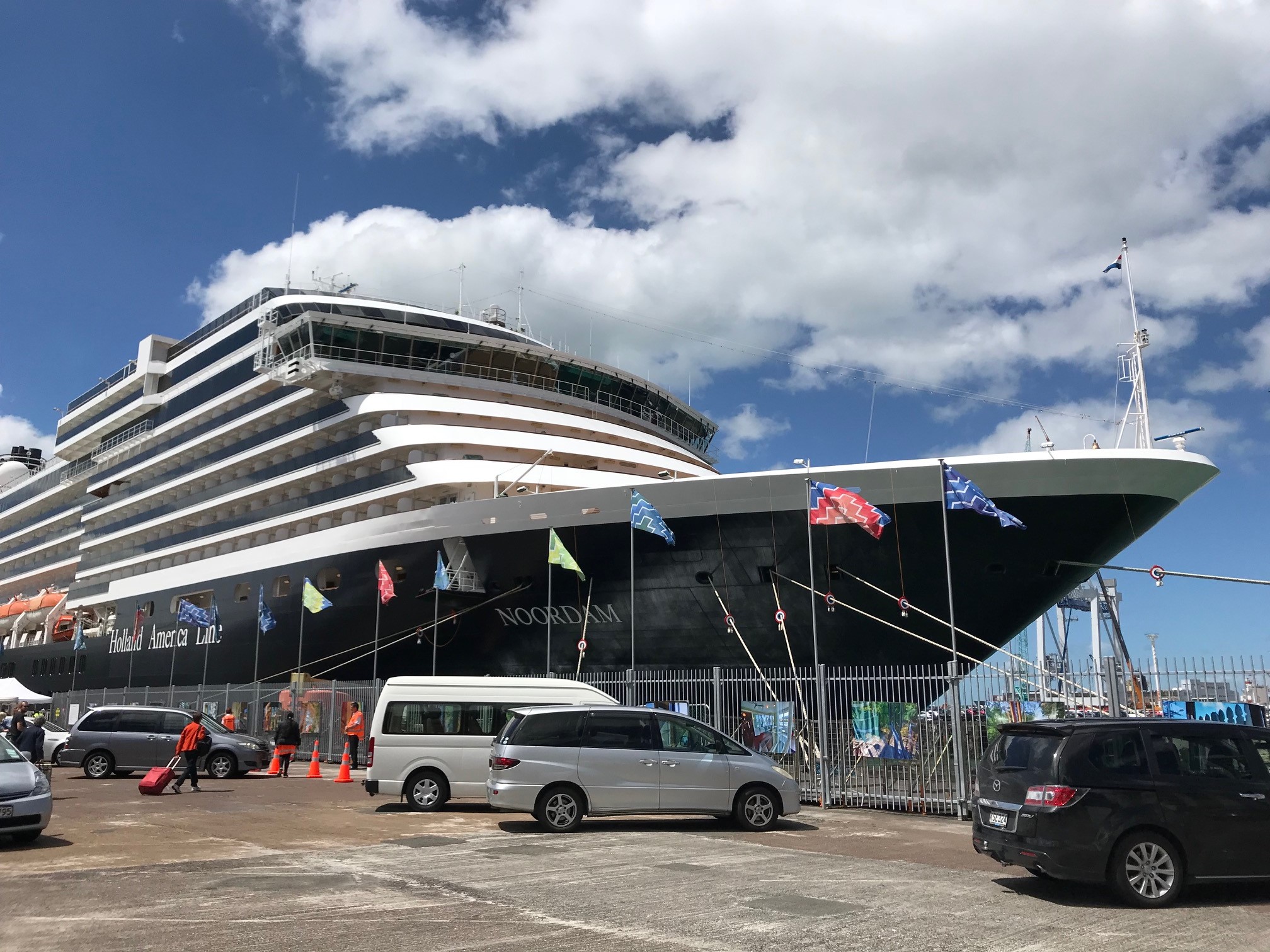 Record 98,000 Kiwis sail oceans on cruise holidays in 2017

New Zealand continues to rank as one of the world's fastest growing cruise markets, according to the just released Cruise Lines International Association (CLIA) Australasia's 2017 New Zealand Source Market Report.

The report shows that a record 98,000 New Zealanders sailed the oceans on a cruise holiday in 2017, an 8.7% increase in passenger numbers. New Zealand continues to outperform more established markets and, in percentage terms, is well ahead of USA, Europe and the UK and Ireland.

The South Pacific maintained its place as the most popular destination for Kiwi cruisers, with the region attracting one in almost three of the nation's ocean cruise passengers.

New Zealand cruises continued to be the second most popular, with 24% of Kiwis choosing to cruise close to home.

The number of New Zealanders cruising in Australia experienced the largest growth in 2017 - with 13,264 cruising, up 112% from 2016.

The equivalent of 2.2% of New Zealand's population took an ocean cruise last year.

0

/