Shopping Basket
Your Basket is Empty
There was an error with PayPal
Click here to try again
Thank you for your business!
You should receive an order confirmation from Paypal shortly.
Exit Shopping Basket
Phone 09 444 0012
The Cruise and Travel Specialists
| | |
| --- | --- |
| Posted on 19 December, 2018 at 23:00 | |
For many of us, the first thing we look at when considering our upcoming holiday plans are flights, and usually the accommodation next. We will look at the BEST, EASIEST and maybe even the CHEAPEST options... or at least what we perceive to be the most economical or BEST VALUE FOR MONEY.
With that in mind, I thought I'd do a quick cost comparison between three different holidays types:
1) SOUTH ISLAND DOMESTIC BREAK
2) SOUTH PACIFIC ISLAND ESCAPE 
3) AUSTRALIA & NEW ZEALAND CRUISE 
I've based the comparison on a FAMILY HOLIDAY FOR THREE - two adults and a child and am speaking from personal experience as over the last few years our family have done each of these.
As the cruise is a 12 Night sailing from Auckland to Sydney on the 18th of December, I've also based all flights to/from Auckland and accommodation over the same period and duration just so that we can compare "apples with apples" 
The cruise pricing is for a BALCONY CABIN on the brand new MAJESTIC PRINCESS so I've also used a good standard of accommodation for both QUEENSTOWN and FIJI. I've also provided the daily cost of an upgraded standard of accommodation for both just to give an idea of alternatives though these are not included in the comparison.
For meals I'm guessing about $30 each for breakfast and dinner and $15 towards a quick bite for lunch which I'm sure sounds pretty reasonable.
I haven't included the cost of activities or entertainment for Fiji or Queenstown whereas the majority of entertainment is included on board a cruise. In Fiji you may be happy to lounge around the pool though in the "adventure capitol of the world" you'll be hard pressed to find many activities under $100 per person! I'll leave this up to you to add your own figure here.
I also haven't included the cost of beverages though unless you're going on a detox retreat I'm guessing this will be a similar amount whatever the holiday you go on... unless you purchased a drinks package on the cruise or even better still, it was a FREE inclusion with your fare. FYI - the pricing on this particular cruise didn't include a free drink package when I quoted this.
There are definitely better times to book and costs may vary as different specials come out (which is where we can help) though have a look at the comparison below and let me know what you think. As I said, you may be surprised!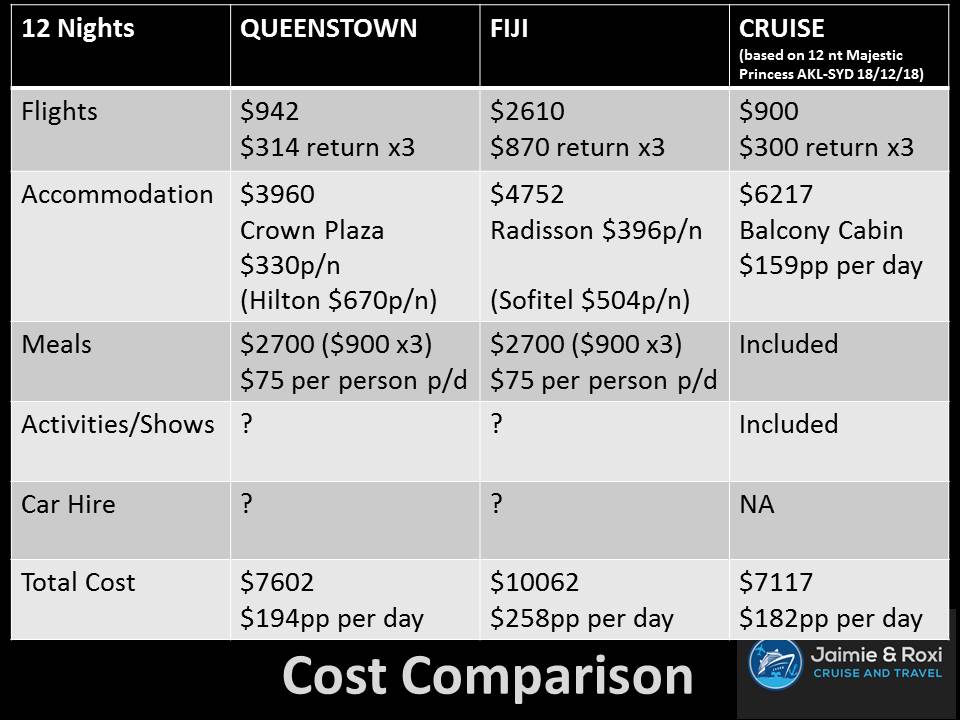 Categories: Family Holidays, Cruises, Accommodation
/